The Bright Lights
Launch Pad Gallery, Yokohama, 2017

The populations of cities like Tokyo are ever increasing due to urbanisation and internal migration. The bright lights of the city call, and the working population, especially the young, answers. Even on a day-to-day basis, the number of people present in the city ebbs and flows as commuters make their way to and from their workplaces. The Bright Lights typifies an idealised image of the city—tall buildings, bright lights and an implied cosmopolitan lifestyle. But the lifestyle of a city-dweller reflects both the best and the worst of our technological advancement. As we reap the benefits of convenience, we find ourselves bound within the workings of the urban machine.
The central piece for this exhibition is a light box designed specifically for Launch Pad Gallery. The dimensions mirror the actual window of the gallery that looks out on to a busy intersection of an otherwise quiet, local neighbourhood in Yokohama. The contrasting views reflect the dual life of the city-dweller as both urbanite and local. Smaller works in this exhibition are selected from a series titled The Urban Machine. Part of a larger on-going series of black and white photographs taken between 2012 and 2017, all of these images are from regular daily travel, and other journeys, capturing both the mundane and the remarkable moments experienced while in transit and exploring the city. The combination of both series combined with the view from the gallery window itself present a multifaceted relationship with urban space, reflective of the multiplicity of urban living.

The Bright Lights
2017
LED Light box 1635mm x 740mm x 85mm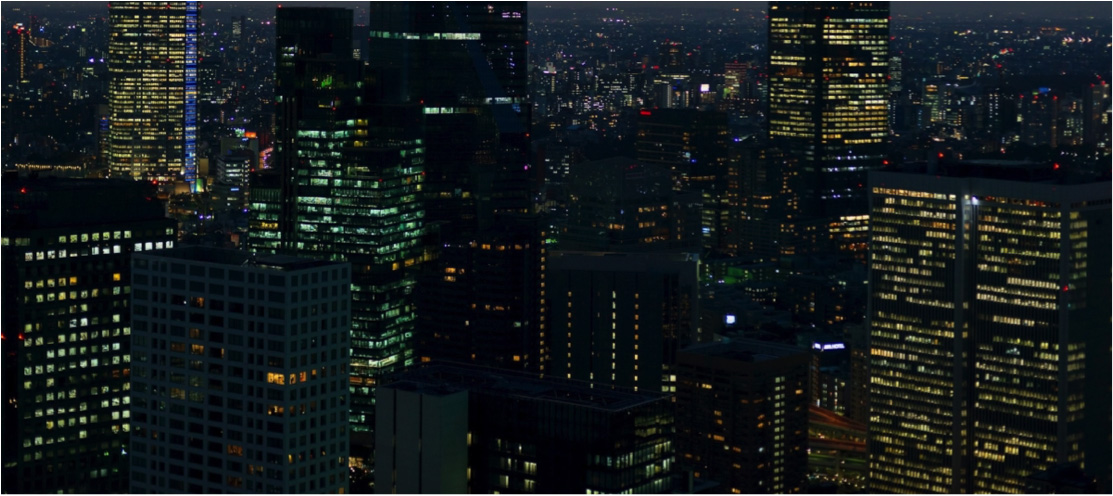 Installation View
"The Bright Lights"
2017
LED Light box 1635mm x 740mm x 85mm
Installation View
"The Urban Machine"
LED Light box 400x300x100mm
Installation View
"The Bright Lights"
2017
LED Light box 1635mm x 740mm x 85mm